Custom Closets Designers In Bal Harbour FL
Need to maximize your closet's potential? We're here to merge aesthetics with utility, whether you're a trendsetter or aiming to streamline your attire. Elevate your living experience with our Custom Closets Designers In Bal Harbour FL professionals specializing in custom closets design.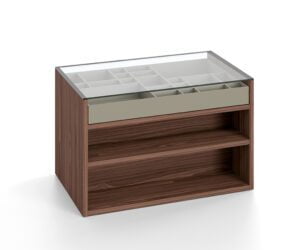 ENDLESS DESIGN POSSIBILITIES
When it comes to custom closets, partnering with the top-notch Custom Closets Designers In Bal Harbour FL reaps a multitude of benefits:
Efficient Space Utilization – Our custom closets seamlessly integrate into your existing space, leaving no extra room wasted. This ensures that even when fully packed with clothing and accessories, they never feel cramped.
Unique Personalization – We celebrate individuality. Our skilled designers in Bal Harbour, FL collaborate with you to create a closet that reflects your personality, from hand-picked colors to innovative storage options.
Expanded Storage – Whether space is a constraint or not, the addition of more shelves and drawers provides ample room for all your possessions, be it clothing, accessories, books, or personal items. Consider features like pull-out trays for shoes or built-in shoe racks as well.
CRAFTING YOUR ULTIMATE CLOSET EXPERIENCE
If a personalized closet design is on your mind, our Custom Closets Designers In Bal Harbour FL advise reflecting on these key considerations:
Is a walk-in closet, a reach-in design, or a harmonious blend of both the right spatial fit?

Do you prefer hanging rods and shelves, or do you find a compilation of drawers more functional?

Tailoring the lighting options to your preferences, including the inclusion of dimmers, can enhance your closet's ambiance.

Take the opportunity to explore the various materials and finishes that can adorn different sections of your closet.
SIGN UP FOR YOUR FREE VIRTUAL CONSULTATION TODAY
Discover the expertise of our Custom Closets Designers In Bal Harbour FL at D'Cassa. Through a virtual consultation, we delve into your requirements for Bal Harbour custom closets and closet organization. Contact our skilled team at 786-634-5544 now.
Resources - Custom Closets Designers In Bal Harbour
HGTV – Closet Design and Organization Ideas:  https://www.hgtv.com/design/topics/closets
HGTV offers a collection of articles and videos on closet design and organization ideas. You can find inspiration and tips for maximizing your closet space.
</p>
Frequently Asked Questions
What should I consider when choosing a custom closets designer?
When selecting a custom closets designer in Bal Harbour, Florida, it's important to consider their experience, portfolio, and customer reviews. Look for designers who have expertise in creating functional and aesthetically pleasing custom closets. Additionally, ensure that they use high-quality materials and offer customization options that meet your specific needs and preferences.
What types of custom closet designs do you offer?
Our custom closets designers in Bal Harbour, Florida offer a wide range of design options to suit different preferences and storage needs. We can create walk-in closets, reach-in closets, wardrobe cabinets, pantry organizers, and more. Our designs are tailored to maximize storage space, provide easy access to belongings, and enhance the overall aesthetic of your home.
How long does the custom closets design process take?
The duration of the custom closets design process can vary depending on the complexity and size of the project. After discussing your requirements and conducting a site visit, our designers will provide you with a timeline. Generally, the design phase may take a few days to a week, followed by fabrication and installation, which can take a few weeks. Rest assured, we strive to deliver high-quality custom closets within a reasonable timeframe.