Custom Closets Designers In Bayshore FL
Desiring a better closet arrangement? From trend-conscious individuals to those wanting systematic storage, we're dedicated to augmenting appeal and usefulness. Enlist the expertise of our Custom Closets Designers In Bayshore FL and witness your home's transformation.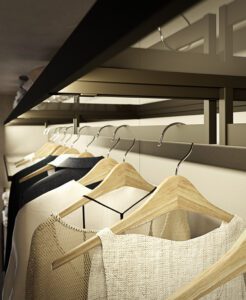 DISCOVER THE INFINITY OF DESIGN POSSIBILITIES
Experience the advantages of collaborating with Custom Closets Designers In Bayshore FL:
Space Efficiency – Our custom closets blend seamlessly into your current space, eliminating any wastage of room. This ensures that even with a full load of clothes and accessories, your closet never feels cramped.
Unique Personalization – We honor your uniqueness. Our Bayshore FL designers work closely with you to create a closet that matches your style, from a wide range of color options to innovative storage ideas.
Expanded Storage – Whether you have limited space or not, additional shelves and drawers make room for all your possessions. From clothing and accessories to books and personal items, there's a designated spot for everything. Explore features like pull-out trays for shoes or built-in shoe racks to optimize storage further.
JOURNEY TOWARDS YOUR ENVISIONED CLOSET OASIS
For a tailored closet design, our Custom Closets Designers In Bayshore FL suggest pondering these points:
Is a walk-in closet, a reach-in design, or a fusion of the two the right fit for you?

Do you prioritize hanging rods and shelves, or do you find a collection of drawers more convenient?

Selecting suitable lighting and considering dimmer options can greatly enhance your closet's functionality.

Investigate the assortment of materials and finishes offered for various components of your closet.
GRAB YOUR CHANCE FOR A COMPLIMENTARY VIRTUAL CHAT
Discover the expertise of our Custom Closets Designers In Bayshore FL at D'Cassa. Through a virtual consultation, we delve into your requirements for Bayshore custom closets and closet organization. Contact our skilled team at 786-634-5544 now.
Resources - Custom Closets Designers In Bayshore
HGTV – Closet Design and Organization Ideas:  https://www.hgtv.com/design/topics/closets
HGTV offers a collection of articles and videos on closet design and organization ideas. You can find inspiration and tips for maximizing your closet space.
</p>
Frequently Asked Questions
What should I look for in a Custom Closets Designer?
Look for designers who have experience in designing custom closets and understand your specific needs. They should provide customized solutions, use high-quality materials, and offer a wide range of design options. It is also important to check their portfolio, customer reviews, and ask for references to ensure their credibility and expertise in the field.
How long does the custom closet design process take?
The duration of the custom closet design process can vary depending on various factors, such as the size and complexity of the project, the availability of materials, and the designer's workload. Generally, it can take anywhere from a few weeks to a couple of months. It is best to discuss the timeline with the designer during the initial consultation to get a better estimate for your specific project.
Can I customize the features and accessories of my custom closet?
Yes, one of the advantages of opting for a custom closet is the ability to customize its features and accessories based on your preferences and storage needs. A professional custom closet designer will work closely with you to understand your requirements and suggest suitable customization options. You can choose from a variety of options, including shelves, drawers, hanging rods, shoe racks, lighting, and more to create a personalized and functional closet space.