Custom Closets Designers In Biscayne Bay View FL
Eager to revolutionize your closet organization? Our solutions cater to both the fashion-conscious and those aiming for a streamlined wardrobe. Explore the possibilities with our Custom Closets Designers In Biscayne Bay View FL.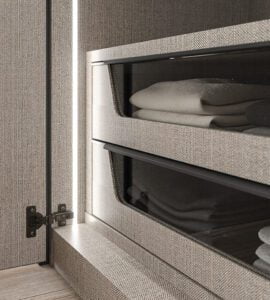 DIVE INTO ENDLESS CREATIVE DESIGNS
When you partner with Custom Closets Designers In Biscayne Bay View FL, you unlock a host of benefits for your closet design:
Efficient Use of Space – Our custom closets seamlessly integrate into your existing space, ensuring no extra room is taken up. This means that even when you fill it with clothes and accessories, the closet remains open and organized.
Personalized Solutions – Embrace your individuality. Our skilled designers in Biscayne Bay View, FL collaborate closely with you, offering personalized color choices, unique storage solutions, and more.
Maximized Storage – Regardless of space limitations, additional shelves and drawers provide ample room for all your belongings. From clothing and accessories to books and personal items, everything can be neatly organized. Consider features like pull-out trays for shoes or built-in shoe racks for added convenience.
YOUR IMPECCABLE CLOSET AWAITS YOUR ARRIVAL
When it comes to a personalized closet design, our expert Custom Closets Designers In Biscayne Bay View FL suggest reflecting on these questions:
Do you need a walk-in, reach-in, or both types of closets?

Are hanging rods and shelves your preference, or do you lean towards having more drawers?

What kind of lighting works best, and is dimmable lighting something you're interested in?

Exploring the array of materials and finishes for the closet components is essential.
GET YOUR VIRTUAL CONSULTATION BOOKED AT NO COST
Selecting D'Cassa's Custom Closets Designers In Biscayne Bay View FL brings innovation to your space. Join our virtual consultation to outline your needs for Biscayne Bay View custom closets and meticulous organization. Reach us at 786-634-5544.
Resources - Custom Closets Designers In Biscayne Bay View
HGTV – Closet Design and Organization Ideas:  https://www.hgtv.com/design/topics/closets
HGTV offers a collection of articles and videos on closet design and organization ideas. You can find inspiration and tips for maximizing your closet space.
</p>
Custom Closets Designers FAQ
What should I consider when hiring a custom closets designer in Biscayne Bay View, Florida?
Important factors to consider
When hiring a custom closets designer, it is crucial to consider their experience in the industry, their
portfolio of previous projects, customer reviews and testimonials, the materials they use, their
customization options, pricing, and warranty policies. Ensure you also discuss your specific needs and
requirements with the designer to ensure a successful collaboration.
What design options are available for custom closets in Biscayne Bay View, Florida?
Variety of design options
Custom closets designers in Biscayne Bay View, Florida offer a wide range of design options to suit
different preferences and styles. Some popular design choices include walk-in closets, reach-in closets,
built-in closets, wardrobe closets, and organization systems such as shelving, drawers, hanging rods, and
accessories. The designers can create personalized storage solutions to maximize space and enhance
functionality while reflecting your aesthetic taste.
What should I expect during the custom closet design process in Biscayne Bay View, Florida?
Steps in the design process
The custom closet design process typically begins with an initial consultation, where the designer will
discuss your needs, assess your space, and provide recommendations. Afterward, the designer will create a
personalized design plan, including 3D renderings and a cost estimate. Once you approve the design, the
designer will proceed with manufacturing the customized components and scheduling the installation. They
will then efficiently install the custom closet in your Biscayne Bay View home, ensuring a seamless and
functional result.