Custom Closets Designers In Boca Raton FL
Interested in upgrading your closet experience? Whether you're a style enthusiast or aiming for a more organized closet, we have the solution. Transform your living space with the assistance of Custom Closets Designers In Boca Raton FL.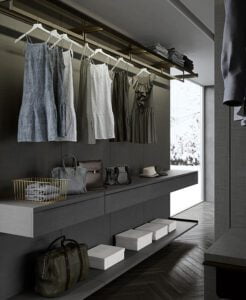 BOUNDLESS CREATIVE DESIGN HORIZONS
The advantages of collaborating with Custom Closets Designers In Boca Raton FL extend beyond measure. These professionals bring years of expertise to the table, ensuring:
Efficiency – Your custom closet seamlessly fits into your existing space without consuming any extra room. Regardless of how many clothes and accessories you have, it will never feel cramped or cluttered.
One-of-a-Kind Personalization – We recognize your uniqueness. Our skilled designers in Boca Raton, FL will collaborate with you to craft a closet that matches your style, including personalized color choices, distinctive storage solutions, and more.
Maximized Storage – Whether you're limited on space or not, additional shelves and drawers create more room for your belongings. From clothing and accessories like purses and scarves to books and personal items, everything finds its place. You can even opt for pull-out trays for shoes or built-in shoe racks if required.
JOURNEY TOWARDS YOUR ENVISIONED CLOSET OASIS
For a tailored closet design, our Custom Closets Designers In Boca Raton FL suggest pondering these points:
Is a walk-in closet, a reach-in design, or a fusion of the two the right fit for you?

Do you prioritize hanging rods and shelves, or do you find a collection of drawers more convenient?

Selecting suitable lighting and considering dimmer options can greatly enhance your closet's functionality.

Investigate the assortment of materials and finishes offered for various components of your closet.
SIGN UP FOR YOUR FREE VIRTUAL CONSULTATION TODAY
Discover the expertise of our Custom Closets Designers In Boca Raton FL at D'Cassa. Through a virtual consultation, we delve into your requirements for Boca Raton custom closets and closet organization. Contact our skilled team at 786-634-5544 now.
Resources - Custom Closets Designers In Boca Raton
HGTV – Closet Design and Organization Ideas:  https://www.hgtv.com/design/topics/closets
HGTV offers a collection of articles and videos on closet design and organization ideas. You can find inspiration and tips for maximizing your closet space.
Frequently Asked Questions – Custom Closets Designers in Boca Raton, Florida
How can I choose the right custom closets designer?
When choosing a custom closets designer in Boca Raton, Florida, consider their experience, reputation, and portfolio. Look for designers who offer a range of styles and customization options. It's also important to read reviews and testimonials from previous clients to ensure their satisfaction. Additionally, make sure the designer can work within your budget and timeline.
What materials are commonly used for custom closets?
Custom closets can be made from various materials, but some common options include wood, laminate, wire, and melamine. Each material has its own advantages and style, so it's important to consider your preferences and needs. Wood is durable and offers a classic look, while laminate and melamine provide affordable and versatile options. Wire is great for organizing accessories and maximizing space efficiency.
Do custom closets come with warranties?
Yes, most reputable custom closets designers in Boca Raton, Florida offer warranties on their products. Warranties can cover defects in materials or workmanship, ensuring that you receive a high-quality product. It's important to discuss the warranty terms with your chosen designer before making a purchase. This will give you peace of mind and protection in case any issues arise after installation.