Custom Closets Designers In Buchanan Keys FL
Eager to revolutionize your closet organization? Our solutions cater to both the fashion-conscious and those aiming for a streamlined wardrobe. Explore the possibilities with our Custom Closets Designers In Buchanan Keys FL.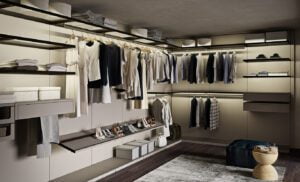 EXPLORING LIMITLESS DESIGN OPPORTUNITIES
Collaborating with Custom Closets Designers In Buchanan Keys FL introduces a range of benefits, ensuring your closet vision becomes reality:
Efficient Space Utilization – Our custom closets effortlessly meld into your existing space, leaving no room unused. This guarantees a spacious feel, even when filled with clothing and accessories.
Uniquely You – We understand your distinctiveness. Our designers in Buchanan Keys, FL collaborate closely with you, offering personalized color choices, inventive storage solutions, and more.
Amplified Storage – Whether you're dealing with limited space or not, the addition of more shelves and drawers creates ample room for your belongings. From clothing and accessories to books and personal items, everything finds a dedicated spot. Explore features like pull-out trays for shoes or built-in shoe racks for added practicality.
DISCOVER YOUR PERFECT CLOSET HAVEN
Considering a custom closet design? Our Custom Closets Designers In Buchanan Keys FL encourage you to address these inquiries:
Is a walk-in closet, a reach-in, or perhaps both, suitable for your needs?

Are you in need of hanging rods and shelves, or do you find drawers more practical?

Determining the ideal lighting type, including the possibility of dimmer switches, is worth contemplating.

Explore the diverse material options and finishes available for various sections of your closet.
LOCK IN YOUR FREE VIRTUAL CONSULTATION NOW
When you choose Custom Closets Designers In Buchanan Keys FL from D'Cassa, we will provide a virtual consultation. This consultation is an opportunity for us to learn about your needs and desires when it comes to Buchanan Keys custom closets and closet organization. Call our expert team at 786-634-5544 today.
Resources - Custom Closets Designers In Buchanan Keys
HGTV – Closet Design and Organization Ideas:  https://www.hgtv.com/design/topics/closets
HGTV offers a collection of articles and videos on closet design and organization ideas. You can find inspiration and tips for maximizing your closet space.
</p>
Frequently Asked Questions
What factors should I consider when choosing a custom closets designer?
When selecting a custom closets designer in Buchanan Keys Florida, it is important to consider several factors. First, make sure to check their experience and expertise in creating custom closet solutions. Look for a designer who has a portfolio or examples of their work to get an idea of their design style. Additionally, consider their ability to understand and fulfill your specific needs and preferences. It's also essential to discuss the timeline and budget for the project before making a decision.
What materials do custom closets designers commonly use?
Custom closets designers typically work with a variety of materials to create functional and aesthetically pleasing storage solutions. Some commonly used materials include high-quality wood such as cedar or oak, laminates, metal, and wire. The choice of material often depends on factors like your desired style, budget, and the type of storage solutions you require. A reputable designer will be able to guide you through the different options available and help you choose the most suitable materials for your custom closets.
How long does it take to design and install custom closets?
The duration to design and install custom closets can vary depending on the complexity of the project and the availability of the designer. While simpler projects may be completed within a few weeks, more elaborate designs or larger spaces can take several months. It's crucial to have a clear discussion with your custom closets designer about the estimated timeline from design to installation. This will help manage your expectations and ensure a smooth process for creating your customized closets.