Custom Closets Designers In Century Village FL
Need to maximize your closet's potential? We're here to merge aesthetics with utility, whether you're a trendsetter or aiming to streamline your attire. Elevate your living experience with our Custom Closets Designers In Century Village FL professionals specializing in custom closets design.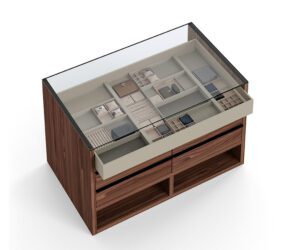 EXPLORING LIMITLESS DESIGN OPPORTUNITIES
Custom Closets Designers in Century Village, FL bring forth a world of benefits through their expertise:
Space Efficiency – Our custom closets seamlessly integrate into your current space without consuming any extra room. This ensures that no matter how much you store, the closet remains organized and spacious.
Personalized Solutions – Embrace your unique style. Our Century Village FL designers collaborate closely with you, offering tailor-made solutions, from a wide palette of colors to inventive storage ideas.
Enhanced Storage – Even in limited spaces, additional shelves, drawers, and thoughtful arrangements make room for all your belongings, from clothing and accessories to books and personal mementos. Incorporate pull-out trays for shoes or built-in shoe racks as needed.
EXPERIENCE THE CLOSET YOU'VE BEEN LONGING FOR
Considering a custom closet design? Our Custom Closets Designers In Century Village FL encourage you to address these inquiries:
Is a walk-in closet, a reach-in, or perhaps both, suitable for your needs?

Are you in need of hanging rods and shelves, or do you find drawers more practical?

Determining the ideal lighting type, including the possibility of dimmer switches, is worth contemplating.

Explore the diverse material options and finishes available for various sections of your closet.
SCHEDULE A COMPLIMENTARY VIRTUAL CONSULTATION
Selecting D'Cassa's Custom Closets Designers In Century Village FL brings innovation to your space. Join our virtual consultation to outline your needs for Century Village custom closets and meticulous organization. Reach us at 786-634-5544.
Resources - Custom Closets Designers In Century Village
HGTV – Closet Design and Organization Ideas:  https://www.hgtv.com/design/topics/closets
HGTV offers a collection of articles and videos on closet design and organization ideas. You can find inspiration and tips for maximizing your closet space.
Frequently Asked Questions
What should I look for in a custom closets designer?
When hiring a custom closets designer, it is important to consider their experience in the field, the quality of their previous work, and their ability to understand and meet your specific needs. Additionally, make sure they offer a wide range of design options, use high-quality materials, and provide excellent customer service.
How long does it take to design and install custom closets?
The duration of the custom closets design and installation process can vary depending on the complexity of the project and the availability of the designer. Typically, it can take anywhere from a few weeks to a few months. It is recommended to discuss the timeline with your chosen designer to get a more accurate estimate for your specific needs.
What is the cost of custom closets design and installation?
The cost of custom closets design and installation can vary depending on factors such as the size and complexity of the project, the materials used, and the chosen designer. It is best to get quotes from multiple designers and discuss your budget with them to determine a price that fits your needs. Remember to consider the long-term value and functionality of the custom closets when assessing the cost.