Custom Closets Designers In Coconut Island FL
Eager to revolutionize your closet organization? Our solutions cater to both the fashion-conscious and those aiming for a streamlined wardrobe. Explore the possibilities with our Custom Closets Designers In Coconut Island FL.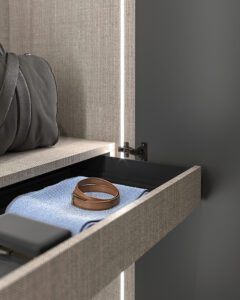 ENDLESS AVENUES FOR CREATIVE EXPRESSION
Custom Closets Designers In Coconut Island FL offer a wealth of benefits, ensuring an exceptional experience:
Space Efficiency – Our custom closets integrate seamlessly into your current space, leaving no extra room wasted. Even when filled with clothes and accessories, the closet maintains a spacious, clutter-free environment.
Personalized Touch – We value your individuality. Our designers in Coconut Island, FL work closely with you to design a closet that reflects your style, offering unique color selections, creative storage options, and more.
Maximized Storage – Whether you're dealing with limited space or not, the addition of more shelves and drawers creates room for all your belongings. From clothing and accessories to books and personal items, there's a place for everything. Explore features like pull-out trays for shoes or built-in shoe racks for added functionality.
JOURNEY TOWARDS YOUR ENVISIONED CLOSET OASIS
When it comes to a personalized closet design, our expert Custom Closets Designers In Coconut Island FL suggest reflecting on these questions:
Do you need a walk-in, reach-in, or both types of closets?

Are hanging rods and shelves your preference, or do you lean towards having more drawers?

What kind of lighting works best, and is dimmable lighting something you're interested in?

Exploring the array of materials and finishes for the closet components is essential.
CLAIM YOUR FREE SPOT FOR A VIRTUAL CONSULTATION
D'Cassa's Custom Closets Designers In Coconut Island FL are dedicated to enhancing your space. Participate in our virtual consultation to define your preferences for Coconut Island custom closets and well-organized spaces. Contact 786-634-5544.
Resources - Custom Closets Designers In Coconut Island
HGTV – Closet Design and Organization Ideas:  https://www.hgtv.com/design/topics/closets
HGTV offers a collection of articles and videos on closet design and organization ideas. You can find inspiration and tips for maximizing your closet space.
Frequently Asked Questions
What should I consider before hiring a custom closets designer?
Before hiring a custom closets designer in Coconut Island Florida, it is important to consider several factors. First, research the designer's experience and qualifications. Look for reviews or testimonials from previous clients. Second, ask about the designer's process and approach to understanding your needs and preferences. A good designer should listen to your ideas and provide creative solutions. Third, discuss the timeline and budget for your project to ensure it aligns with your expectations. Lastly, don't forget to inquire about any warranties or guarantees offered by the designer or the company they work for.
How do I choose the right materials for my custom closet?
When choosing materials for your custom closet design, there are a few considerations to keep in mind. First, think about the style and aesthetic you want to achieve. Different materials, such as solid wood or laminate, can create different looks. Second, consider durability and maintenance. Some materials may require more upkeep, while others are more resistant to wear and tear. Third, take into account your budget. While high-quality materials may come at a higher price, they can also offer better longevity. Lastly, consult with your designer for recommendations based on your specific needs and preferences.
What kind of storage solutions can a custom closet designer offer?
A professional custom closet designer in Coconut Island Florida can offer a wide range of storage solutions tailored to your needs. Some options may include adjustable shelves, hanging rods, specialized compartments for accessories, shoe racks, drawer dividers, and built-in hampers. The designer will assess your requirements and space constraints to create an efficient and functional storage system. They can maximize the use of vertical and horizontal space, as well as incorporate custom features like jewelry drawers or hidden compartments. Discuss your specific needs with the designer to explore all the possibilities.