Custom Closets Designers In Coral Woods FL
Want to improve your closet space? We will help you add loads of charm and functionality, whether you are a fashionista or simply want to manage your wardrobe better. Our Custom Closets Designers In Coral Woods FL will become one of the most enviable and important rooms in your home.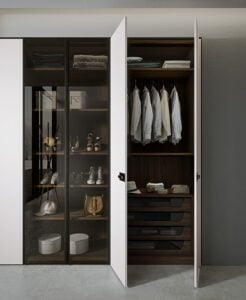 EXPLORING LIMITLESS DESIGN OPPORTUNITIES
When you partner with Custom Closets Designers In Coral Woods FL, you unlock a host of benefits for your closet design:
Efficient Use of Space – Our custom closets seamlessly integrate into your existing space, ensuring no extra room is taken up. This means that even when you fill it with clothes and accessories, the closet remains open and organized.
Personalized Solutions – Embrace your individuality. Our skilled designers in Coral Woods, FL collaborate closely with you, offering personalized color choices, unique storage solutions, and more.
Maximized Storage – Regardless of space limitations, additional shelves and drawers provide ample room for all your belongings. From clothing and accessories to books and personal items, everything can be neatly organized. Consider features like pull-out trays for shoes or built-in shoe racks for added convenience.
CRAFTING YOUR ULTIMATE CLOSET EXPERIENCE
If a personalized closet design is on your mind, our Custom Closets Designers In Coral Woods FL advise reflecting on these key considerations:
Is a walk-in closet, a reach-in design, or a harmonious blend of both the right spatial fit?

Do you prefer hanging rods and shelves, or do you find a compilation of drawers more functional?

Tailoring the lighting options to your preferences, including the inclusion of dimmers, can enhance your closet's ambiance.

Take the opportunity to explore the various materials and finishes that can adorn different sections of your closet.
BOOK YOUR FREE ONLINE CONSULTATION TODAY
Elevate your space with D'Cassa's Custom Closets Designers In Coral Woods FL. Join us for a virtual consultation, where we understand your needs for Coral Woods custom closets and efficient organization. Dial 786-634-5544 to connect with our team.
Resources - Custom Closets Designers In Coral Woods
HGTV – Closet Design and Organization Ideas:  https://www.hgtv.com/design/topics/closets
HGTV offers a collection of articles and videos on closet design and organization ideas. You can find inspiration and tips for maximizing your closet space.
Frequently Asked Questions about Custom Closets Designers in Coral Woods Florida
What factors should I consider when choosing a custom closets designer?
When choosing a custom closets designer in Coral Woods Florida, there are several important factors to consider:
Experience: Look for a designer with a proven track record and experience in creating custom closet solutions.
Portfolio: Review their portfolio to get a sense of their design style and quality of work.
References: Ask for references or testimonials from past clients to gauge their satisfaction with the designer's work.
Price: Consider the designer's pricing structure and how it aligns with your budget.
Communication: Ensure that the designer is easy to communicate with and understands your needs.
Can I see examples of your previous custom closet designs?
Yes, absolutely! We encourage you to view our portfolio of previous custom closet designs in Coral Woods Florida. It will give you a better understanding of our design style and the level of craftsmanship we offer. Please click here to browse through a selection of our past projects.
Do you offer free consultations and estimates?
Yes, we offer free consultations and estimates for our custom closet design services in Coral Woods Florida. During the consultation, our expert designers will assess your needs, discuss design options, and provide an estimate based on the scope of the project. We believe in transparent pricing and want to ensure that you have a clear understanding of the cost involved before moving forward with the project.