Custom Closets Designers In Doral FL
Dreaming of a better closet arrangement? Our services are tailored to fashionistas and those in need of systematic storage solutions. Embrace the potential of your living space with Custom Closets Designers In Doral FL at your service.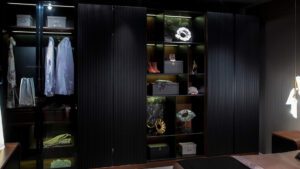 DIVE INTO ENDLESS CREATIVE DESIGNS
When it comes to custom closets, partnering with the top-notch Custom Closets Designers In Doral FL reaps a multitude of benefits:
Efficient Space Utilization – Our custom closets seamlessly integrate into your existing space, leaving no extra room wasted. This ensures that even when fully packed with clothing and accessories, they never feel cramped.
Unique Personalization – We celebrate individuality. Our skilled designers in Doral, FL collaborate with you to create a closet that reflects your personality, from hand-picked colors to innovative storage options.
Expanded Storage – Whether space is a constraint or not, the addition of more shelves and drawers provides ample room for all your possessions, be it clothing, accessories, books, or personal items. Consider features like pull-out trays for shoes or built-in shoe racks as well.
YOUR IMPECCABLE CLOSET AWAITS YOUR ARRIVAL
When contemplating a custom closet design, it's wise to consult our Custom Closets Designers In Doral FL and contemplate these questions:
Should your closet be a walk-in, a reach-in, or a combination of both?

Are hanging rods and shelves essential, or do you envision a closet with primarily drawers?

Delving into lighting preferences, including the feasibility of dimmer controls, is recommended.

Familiarize yourself with the variety of materials and finishes accessible for different facets of your closet.
SIGN UP FOR YOUR FREE VIRTUAL CONSULTATION TODAY
At D'Cassa, our Custom Closets Designers In Doral FL redefine your storage solutions. Engage in a virtual consultation to communicate your needs for Doral custom closets and systematic organization. Reach our team at 786-634-5544.
Resources - Custom Closets Designers In Doral
HGTV – Closet Design and Organization Ideas:  https://www.hgtv.com/design/topics/closets
HGTV offers a collection of articles and videos on closet design and organization ideas. You can find inspiration and tips for maximizing your closet space.
</p>
Frequently Asked Questions
What factors should I consider when choosing a custom closets designer in Doral, Florida?
When choosing a custom closets designer in Doral, Florida, it is important to consider:
Their experience and expertise in designing custom closets.
Their portfolio of previous work.
Customer reviews and testimonials.
Their ability to understand and meet your specific needs and preferences.
The materials and quality of craftsmanship they offer.
Their pricing and overall value for the services provided.
What type of custom closets can be designed?
Custom closets designers in Doral, Florida can design a wide variety of closet types, including:
Walk-in closets
Reach-in closets
Wardrobe closets
Pantry closets
Utility closets
And more
What is the typical timeline for custom closets design and installation?
The timeline for custom closets design and installation can vary depending on several factors, including:
The complexity of the design.
The size of the project.
Any additional customization or special features.
However, on average, it may take anywhere from a few weeks to a couple of months from the initial consultation to the final installation of your custom closet.