Custom Kitchen Cabinets In Immokalee FL

Experience the fusion of creativity and utility with D'Cassa. Designing custom kitchen cabinets in Immokalee FL goes beyond routine for us. We cherish the chance to synchronize our clients' desires, intertwining style, purpose, and luxury.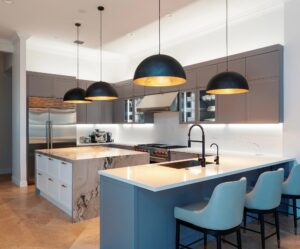 TAILORED CUSTOMER CARE: ELEVATING YOUR EXPERIENCE
Discover the world of D'Cassa, where we prioritize understanding your space, resulting in cabinets that perfectly align with your preferences. Our team of skilled custom kitchen cabinets in Immokalee FL offers an array of styles to harmonize with your home decor:
Unmatched Quality Materials and Craftsmanship

: Our cabinets are meticulously handcrafted using the finest wood types, such as mahogany, oak, and cherry. Cabinet doors feature exquisite details like crown molding, raised panels, and wood or glass inlays.

Limitless Customization Options: From comprehensive wall cabinetry to sleek modular designs and space-saving pantries, the options for custom kitchen cabinets in

Immokalee

FL

are limitless. Choose from an extensive range of colors, laminates, and finishes to evoke a specific ambiance or make a bold statement.
Versatility in Customization

: To cater to all preferences, we offer fully customized cabinets crafted without templates, as well as semi-custom kitchen cabinets and modular cabinetry.

Embracing New Construction and Remodeling

: Whether it's a new construction endeavor or a remodeling project, our deep understanding of cabinet design and layout alternatives ensures optimal kitchen organization. Our custom kitchen cabinets reflect your unique style, enhancing your property's value.
SEAMLESS PROJECT MANAGEMENT FOR A STRESS-FREE EXPERIENCE
From your initial call to the culmination of your endeavor, our team specializing in custom kitchen cabinets in Immokalee FL is by your side at every juncture:
Developing Designs Aligned with Your Stipulations

Discussion Meeting for Incorporating Any Desired Alterations

On-location Visit to Finalize Measurements and Gain Last Green Light

Precise Installation Accompanied by Exhaustive Quality Assessment
UNSURPASSED QUALITY: Custom Kitchen Cabinets In Immokalee FL
Indulge in the world of opulence with D'Cassa's offerings, customizing your kitchen through impeccable custom kitchen cabinets in Immokalee FL. We're devoted to realizing your design dreams to perfection. Speak to our specialists at 786-634-5544.
Resources - Custom Kitchen Cabinets In Immokalee​​
Kitchen Cabinet Design Ideas: For inspiration and design ideas related to custom kitchen cabinets, you can explore articles and galleries on kitchen cabinet designs.
Remodeling Magazine: This magazine provides insights into the latest trends and costs associated with home remodeling projects, including kitchen renovations.
HGTV: HGTV provides design inspiration, renovation tips, and videos showcasing various kitchen cabinet styles and ideas.
National Kitchen & Bath Association (NKBA): The NKBA is a leading professional organization for kitchen and bath designers. They offer resources, certifications, and industry insights.
Frequently Asked Questions about Custom Kitchen Cabinets in Immokalee, Florida
What are the advantages of choosing custom kitchen cabinets?
Custom kitchen cabinets offer several advantages. Firstly, they are tailored to fit your specific kitchen layout, ensuring maximum utilization of space. Secondly, you have complete control over the design, materials, and finishes, allowing you to create a personalized look that matches your style. Lastly, custom cabinets are typically built with high-quality craftsmanship, resulting in long-lasting durability and functionality.
How long does it typically take to install custom kitchen cabinets?
The duration of custom kitchen cabinet installation can vary depending on several factors. These include the size and complexity of your kitchen, the availability of materials, and the schedule of the installation team. Generally, it can take anywhere from a few weeks to a couple of months. It is advisable to discuss the timeline with your chosen cabinet provider to get a more accurate estimate based on your specific requirements.
What should I consider when choosing custom kitchen cabinets?
When selecting custom kitchen cabinets, there are a few important factors to consider. Firstly, think about your specific storage needs and determine the cabinet configuration that will best accommodate them. Secondly, consider the materials and finishes that will complement your kitchen décor and personal taste. Additionally, don't forget to consider your budget and choose cabinets that offer the best value for your investment. Lastly, ensure that you work with a reputable and experienced cabinet provider who can deliver high-quality craftsmanship and reliable service.