Custom Kitchen Cabinets In Key Largo FL

D'Cassa is where kitchen transformation becomes an artful journey. Crafting custom kitchen cabinets in Key Largo FL stands as a testament to our commitment. We embrace the chance to merge our clients' visions, uniting style, practicality, and opulence.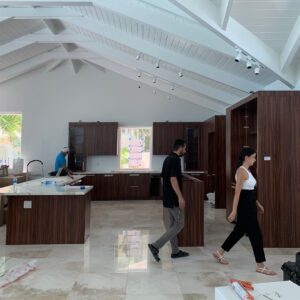 YOUR PREFERENCES, OUR GUIDING PRINCIPLE: CUSTOM SERVICE
Personalized Excellence: Discover custom kitchen cabinets in Key Largo FL We don't just design cabinets; we translate your essence into cabinetry. Our commitment revolves around transforming your vision into reality:
Craftsmanship Par Excellence

: Experience the artistry that comes with crafting cabinets from premier woods like mahogany, oak, and cherry. Intricate elements such as crown molding, raised panels, and refined wood or glass inlays grace our cabinet doors.

Infinite Customization Horizons: Navigate through the panorama of full wall cabinetry, modular designs, and space-efficient pantries. The custom kitchen cabinets in

Key Largo

FL

collection offers an array of colors, laminates, and finishes, setting the mood for any ambiance.
Tailored to Perfection

: Opt for fully customized cabinets, explore semi-custom avenues, or embrace modular arrangements, all tailored to your specifications.

Redefining Spaces

: Whether breathing new life into an existing kitchen or designing for a new construction, our expertise in cabinet design ensures flawless kitchen organization. Custom Kitchen Cabinets cater to homeowners, designers, architects, and contractors, leaving an imprint of style and value.
SMOOTH SAILING THROUGH PROJECT MANAGEMENT CHALLENGES
Beginning with your initial call and progressing through the entirety of your project, our team specialized in custom kitchen cabinets in Key Largo FL stands by your side:
Crafting Designs Aligned with Your Unique Requirements

Collaborative Presentation to Accommodate Changes as Necessary

Onsite Survey to Validate Measurements and Obtain Final Authorization

Skillful Installation followed by Rigorous Quality Assessment
UNSURPASSED QUALITY: Custom Kitchen Cabinets In Key Largo FL
D'Cassa presents a full spectrum of choices for custom kitchen cabinets in Key Largo FL, synonymous with quality and sophistication. Count on us to meticulously craft your envisioned designs. Contact our team at 786-634-5544.
Resources - Custom Kitchen Cabinets In Key Largo​​
Kitchen Cabinet Design Ideas: For inspiration and design ideas related to custom kitchen cabinets, you can explore articles and galleries on kitchen cabinet designs.
Remodeling Magazine: This magazine provides insights into the latest trends and costs associated with home remodeling projects, including kitchen renovations.
HGTV: HGTV provides design inspiration, renovation tips, and videos showcasing various kitchen cabinet styles and ideas.
National Kitchen & Bath Association (NKBA): The NKBA is a leading professional organization for kitchen and bath designers. They offer resources, certifications, and industry insights.
</p>
Frequently Asked Questions
What materials are used for custom kitchen cabinets?
Materials for custom kitchen cabinets
Custom kitchen cabinets can be made from a variety of materials including solid wood, plywood, particle board, or a combination of these. High-quality cabinets are often constructed using solid wood for the frame and doors, while the sides and interiors may use plywood or particle board. The choice of materials depends on personal preference, budget, and desired durability.
What is the average cost of custom kitchen cabinets?
Average cost of custom kitchen cabinets
The cost of custom kitchen cabinets varies depending on factors such as the size of the kitchen, materials used, design complexity, and additional features. On average, custom kitchen cabinets in Key Largo, Florida can range from $10,000 to $30,000 or more. It's recommended to get a professional consultation and detailed estimate to determine the specific cost for your project.
How long does it take to install custom kitchen cabinets?
Installation timeline for custom kitchen cabinets
The time it takes to install custom kitchen cabinets depends on various factors including the size of the kitchen, complexity of the design, and any additional customization. On average, the installation process can range from a few days to a few weeks. It's best to consult with a professional cabinet installer to get a more accurate estimate based on your specific project.