Custom Kitchen Cabinets In Marco Island FL

D'Cassa redefines kitchens as works of art. Crafting custom kitchen cabinets in Marco Island FL is our dedication, not just a task. We seize the opportunity to harmonize our clients' wishes, intertwining style, functionality, and magnificence.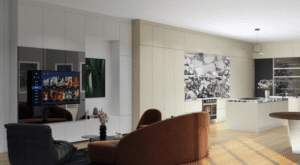 ONE-ON-ONE CARE: YOUR SERVICE EXPERIENCE, PERSONALIZED
We take the time to get to know you and your space so that we can create cabinets that are uniquely suited to your needs and tastes. Our custom kitchen cabinets in Marco Island FL work with a variety of styles and help you find a perfect match for your home decor:
The Finest Quality Materials and Millwork Performed by Skilled Craftsmen –

Premium wood types, including mahogany, oak, and cherry are used to handcraft our cabinets. Our cabinet doors may include beautiful crown molding, raised panels, and wood or glass inlays.

Choices for Customization –

From full wall cabinetry to sleek modular designs to space saving pantries, the customizing possibilities for

custom kitchen cabinets in

Marco Island

FL

are endless. Cabinets also come in an abundance of colors, laminates and finishes to help create a specific mood or make a statement.

Different Levels of Customization –

To accommodate all our clients, we provide fully customized cabinets where no templates are used, in addition to semi-custom kitchen cabinets and modular cabinetry.

We Welcome New Construction Projects as well as Remodels –

We craft your creation using our extensive understanding of cabinet design and layout alternatives for the ultimate in kitchen organization. Whether you are a residential homeowner, interior designer, architect, or general contractor, our custom kitchen cabinets genuinely represent your aesthetic and increase property value.
HEADACHE-FREE PROJECT MANAGEMENT: STRATEGIES FOR SUCCESS
From your initial phone call through to the completion of your project, our team of custom kitchen cabinets in Marco Island FL support you every step of the way:
Design Creation Based on Your Criteria

Presentation Meeting Where Any Changes are Made

Onsite Visit for Final Assessment, Measurements, and Final Approval

Installation and Quality Inspection
TOP-TIER QUALITY: Custom Kitchen Cabinets In Marco Island FL
At D'Cassa, discover a plethora of luxurious options to personalize your kitchen with custom kitchen cabinets in Marco Island FL. We guarantee top-notch quality, ensuring your designs come alive as you envisioned. Call 786-634-5544 to consult our experts.
Resources - Custom Kitchen Cabinets In Marco Island​​
Kitchen Cabinet Design Ideas: For inspiration and design ideas related to custom kitchen cabinets, you can explore articles and galleries on kitchen cabinet designs.
Remodeling Magazine: This magazine provides insights into the latest trends and costs associated with home remodeling projects, including kitchen renovations.
HGTV: HGTV provides design inspiration, renovation tips, and videos showcasing various kitchen cabinet styles and ideas.
National Kitchen & Bath Association (NKBA): The NKBA is a leading professional organization for kitchen and bath designers. They offer resources, certifications, and industry insights.
"`html
Frequently Asked Questions about Custom Kitchen Cabinets in Marco Island, Florida
What is the average cost of custom kitchen cabinets?
The average cost of custom kitchen cabinets can vary depending on various factors such as the size of your kitchen, the material used, and the design complexity. However, a rough estimate is around $500 to $1,200 per linear foot.
Custom kitchen cabinets offer unique benefits and can be tailored to your specific needs and preferences. To get an accurate cost estimate for your project, it's best to consult with a reputable cabinet contractor who can provide you with a detailed quote based on your requirements.
How long does it take to install custom kitchen cabinets?
The installation time for custom kitchen cabinets depends on the size and complexity of the project. On average, it can take anywhere from a few days to a few weeks to complete the installation.
Factors that can affect the installation timeline include the number of cabinets, any modifications required to fit your kitchen space, and the availability of the cabinet installation team. It's recommended to discuss the estimated timeline with your cabinet contractor to have a better idea of the schedule for your specific project.
What are the advantages of custom kitchen cabinets over pre-made ones?
Custom kitchen cabinets offer several advantages over pre-made ones:
Personalization: Custom cabinets allow you to design and customize every aspect, ensuring a perfect fit for your kitchen layout and storage needs.
Quality: Custom cabinets are typically made with higher-quality materials and craftsmanship, resulting in long-lasting durability.
Functionality: Custom cabinets can be tailored to include special features and storage solutions that specifically cater to your lifestyle and organization preferences.
Unique Design: With custom cabinets, you have the freedom to choose the style, finish, and decorative elements that reflect your personal taste and coordinate with the overall aesthetic of your kitchen.
Invest in custom kitchen cabinets for a truly customized and functional kitchen that adds value to your home.
"`