Custom Kitchen Cabinets In North Fort Myers FL

Elevating kitchen design to an art form is our mission at D'Cassa. Our dedication to crafting custom kitchen cabinets in North Fort Myers FL goes beyond routine work. It's our gateway to harmonize the aspirations of our clients, weaving style, utility, and grace seamlessly.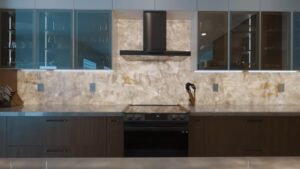 PERSONALIZED SERVICE
Discover the world of D'Cassa, where we prioritize understanding your space, resulting in cabinets that perfectly align with your preferences. Our team of skilled custom kitchen cabinets in North Fort Myers FL offers an array of styles to harmonize with your home decor:
Unmatched Quality Materials and Craftsmanship

: Our cabinets are meticulously handcrafted using the finest wood types, such as mahogany, oak, and cherry. Cabinet doors feature exquisite details like crown molding, raised panels, and wood or glass inlays.

Limitless Customization Options: From comprehensive wall cabinetry to sleek modular designs and space-saving pantries, the options for custom kitchen cabinets in

North Fort Myers

FL

are limitless. Choose from an extensive range of colors, laminates, and finishes to evoke a specific ambiance or make a bold statement.
Versatility in Customization

: To cater to all preferences, we offer fully customized cabinets crafted without templates, as well as semi-custom kitchen cabinets and modular cabinetry.

Embracing New Construction and Remodeling

: Whether it's a new construction endeavor or a remodeling project, our deep understanding of cabinet design and layout alternatives ensures optimal kitchen organization. Our custom kitchen cabinets reflect your unique style, enhancing your property's value.
STRESS-FREE PROJECT MANAGEMENT: MAKING COMPLEXITY SIMPLE
Starting from your first inquiry and continuing until the final touches on your project, our dedicated team of designers for custom kitchen cabinets in North Fort Myers FL is here to guide you:
Crafting Designs According to Your Specific Requirements

Collaborative Presentation Meeting for Revisions and Refinements

Onsite Evaluation to Confirm Measurements and Obtain Last Approval

Meticulous Installation Process Followed by Rigorous Quality Check
UNSURPASSED QUALITY: Custom Kitchen Cabinets In North Fort Myers FL
At D'Cassa, discover a plethora of luxurious options to personalize your kitchen with custom kitchen cabinets in North Fort Myers FL. We guarantee top-notch quality, ensuring your designs come alive as you envisioned. Call 786-634-5544 to consult our experts.
Resources - Custom Kitchen Cabinets In North Fort Myers​​
Kitchen Cabinet Design Ideas: For inspiration and design ideas related to custom kitchen cabinets, you can explore articles and galleries on kitchen cabinet designs.
Remodeling Magazine: This magazine provides insights into the latest trends and costs associated with home remodeling projects, including kitchen renovations.
HGTV: HGTV provides design inspiration, renovation tips, and videos showcasing various kitchen cabinet styles and ideas.
National Kitchen & Bath Association (NKBA): The NKBA is a leading professional organization for kitchen and bath designers. They offer resources, certifications, and industry insights.
</p>
Frequently Asked Questions about Custom Kitchen Cabinets in North Fort Myers, Florida
What are the advantages of custom kitchen cabinets?
Custom kitchen cabinets offer several advantages:
– Customization: You can design the cabinets according to your specific requirements and style preferences.
– Quality materials: Custom cabinets are typically made of high-quality materials, ensuring durability and longevity.
– Perfect fit: They can be tailored to fit any kitchen space, making the most of the available area.
– Storage optimization: Custom cabinets allow you to maximize storage space with clever organizational solutions.
– Unique design: You can create a one-of-a-kind kitchen aesthetic by selecting custom finishes, colors, and hardware.
How long does it take to install custom kitchen cabinets?
The installation timeline for custom kitchen cabinets depends on various factors:
– Complexity of design: Intricate designs may require additional time for installation.
– Size of the kitchen: Larger kitchens usually take longer to install.
– Preparation work: If any demolition or modifications are necessary, it may add extra time to the installation process.
– Coordination with other contractors: If other professionals, such as electricians or plumbers, are involved, the timeline may be influenced by their availability.
In general, the installation process can take several days to a few weeks from start to finish. It's best to consult with a professional cabinet installer for a more accurate estimation based on your specific project.
What is the cost of custom kitchen cabinets in North Fort Myers, Florida?
The cost of custom kitchen cabinets can vary depending on several factors:
– Size of the kitchen: Larger kitchens usually require more materials and labor, therefore increasing the cost.
– Material selection: Different materials have different price ranges. High-end materials tend to be more expensive.
– Customization options: The level of customization you choose, such as specialized features or intricate designs, can impact the cost.
– Additional features: Adding extras like pull-out drawers, soft-close hinges, or lighting can increase the overall price.
– Local market conditions: Prices can vary based on the specific location and competition among cabinet makers.
To get an accurate estimate, it's recommended to reach out to several cabinet manufacturers or contractors in North Fort Myers, Florida, and request quotes based on your specific requirements.