Custom Kitchen Cabinets In Port Boca Grande FL

D'Cassa redefines kitchens as works of art. Crafting custom kitchen cabinets in Port Boca Grande FL is our dedication, not just a task. We seize the opportunity to harmonize our clients' wishes, intertwining style, functionality, and magnificence.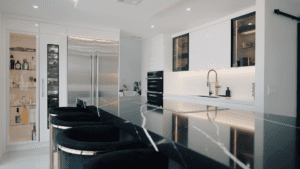 PERSONAL TOUCH SERVICE: WHERE YOU'RE THE CENTER OF ATTENTION
We take the time to get to know you and your space so that we can create cabinets that are uniquely suited to your needs and tastes. Our custom kitchen cabinets in Port Boca Grande FL work with a variety of styles and help you find a perfect match for your home decor:
The Finest Quality Materials and Millwork Performed by Skilled Craftsmen –

Premium wood types, including mahogany, oak, and cherry are used to handcraft our cabinets. Our cabinet doors may include beautiful crown molding, raised panels, and wood or glass inlays.

Choices for Customization –

From full wall cabinetry to sleek modular designs to space saving pantries, the customizing possibilities for

custom kitchen cabinets in

Port Boca Grande

FL

are endless. Cabinets also come in an abundance of colors, laminates and finishes to help create a specific mood or make a statement.

Different Levels of Customization –

To accommodate all our clients, we provide fully customized cabinets where no templates are used, in addition to semi-custom kitchen cabinets and modular cabinetry.

We Welcome New Construction Projects as well as Remodels –

We craft your creation using our extensive understanding of cabinet design and layout alternatives for the ultimate in kitchen organization. Whether you are a residential homeowner, interior designer, architect, or general contractor, our custom kitchen cabinets genuinely represent your aesthetic and increase property value.
PROJECT MANAGEMENT WITHOUT THE HEADACHES
Beginning with your initial contact and extending to the conclusion of your assignment, our team specialized in custom kitchen cabinets in Port Boca Grande FL provides unwavering support:
Crafting Designs as per Your Individual Requirements

Meeting to Discuss and Incorporate Changes as Needed

Onsite Visit for Precise Measurements and Last Approvals

Installation Process Concluded with a Comprehensive Quality Review
UNSURPASSED QUALITY: Custom Kitchen Cabinets In Port Boca Grande FL
D'Cassa presents a full spectrum of choices for custom kitchen cabinets in Port Boca Grande FL, synonymous with quality and sophistication. Count on us to meticulously craft your envisioned designs. Contact our team at 786-634-5544.
Resources - Custom Kitchen Cabinets In Port Boca Grande​​
Kitchen Cabinet Design Ideas: For inspiration and design ideas related to custom kitchen cabinets, you can explore articles and galleries on kitchen cabinet designs.
Remodeling Magazine: This magazine provides insights into the latest trends and costs associated with home remodeling projects, including kitchen renovations.
HGTV: HGTV provides design inspiration, renovation tips, and videos showcasing various kitchen cabinet styles and ideas.
National Kitchen & Bath Association (NKBA): The NKBA is a leading professional organization for kitchen and bath designers. They offer resources, certifications, and industry insights.
The frequently asked questions about Custom Kitchen Cabinets in Port Boca Grande, Florida:
Question 1
What are the advantages of custom kitchen cabinets?
The advantages of custom kitchen cabinets include personalized design options, optimal use of available space, high-quality craftsmanship, and durability. With custom cabinets, you have the freedom to choose materials, finishes, and features that perfectly match your style and needs.
Question 2
How long does it take to install custom kitchen cabinets?
The installation timeline for custom kitchen cabinets varies depending on factors like the size of the project, complexity of design, and any additional customized features. Generally, it can take anywhere from a few days to a few weeks. It's best to consult with a professional cabinet installer for a more accurate time estimate based on your specific requirements.
Question 3
What is the cost of custom kitchen cabinets?
The cost of custom kitchen cabinets in Port Boca Grande, Florida, can vary greatly depending on factors such as the materials used, cabinet size, design complexity, and additional features. It's recommended to obtain quotes from multiple cabinet manufacturers or suppliers to get an accurate idea of the cost for your specific project.