Custom Kitchen Cabinets In Punta Rassa FL
At D'Cassa, we believe every kitchen is a work of art. For us, the process of building Custom Kitchen Cabinets In Punta Rassa FL is much more than just a job. It is an opportunity to bring together the style, function, and beauty our clients have always dreamed of.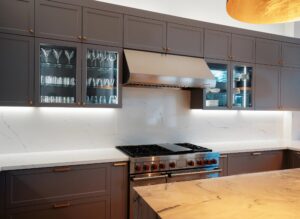 TAILORED CUSTOMER CARE: ELEVATING YOUR EXPERIENCE
Discover the world of D'Cassa, where we prioritize understanding your space, resulting in cabinets that perfectly align with your preferences. Our team of skilled custom kitchen cabinets in Punta Rassa FL offers an array of styles to harmonize with your home decor:
Unmatched Quality Materials and Craftsmanship

: Our cabinets are meticulously handcrafted using the finest wood types, such as mahogany, oak, and cherry. Cabinet doors feature exquisite details like crown molding, raised panels, and wood or glass inlays.

Limitless Customization Options: From comprehensive wall cabinetry to sleek modular designs and space-saving pantries, the options for custom kitchen cabinets in

Punta Rassa

FL

are limitless. Choose from an extensive range of colors, laminates, and finishes to evoke a specific ambiance or make a bold statement.
Versatility in Customization

: To cater to all preferences, we offer fully customized cabinets crafted without templates, as well as semi-custom kitchen cabinets and modular cabinetry.

Embracing New Construction and Remodeling

: Whether it's a new construction endeavor or a remodeling project, our deep understanding of cabinet design and layout alternatives ensures optimal kitchen organization. Our custom kitchen cabinets reflect your unique style, enhancing your property's value.
SMOOTH SAILING THROUGH PROJECT MANAGEMENT CHALLENGES
Beginning with your initial contact and extending to the conclusion of your assignment, our team specialized in custom kitchen cabinets in Punta Rassa FL provides unwavering support:
Crafting Designs as per Your Individual Requirements

Meeting to Discuss and Incorporate Changes as Needed

Onsite Visit for Precise Measurements and Last Approvals

Installation Process Concluded with a Comprehensive Quality Review
PREMIUM CRAFTSMANSHIP: Custom Kitchen Cabinets In Punta Rassa FL
D'Cassa has a full range of luxury offerings to suit every taste. When you partner with us, your custom kitchen cabinets in Punta Rassa FL will be of the highest quality and turn out exactly as you imagined them. Call our experts at 786-634-5544 today.
Resources - Custom Kitchen Cabinets In Punta Rassa​​
Kitchen Cabinet Design Ideas: For inspiration and design ideas related to custom kitchen cabinets, you can explore articles and galleries on kitchen cabinet designs.
Remodeling Magazine: This magazine provides insights into the latest trends and costs associated with home remodeling projects, including kitchen renovations.
HGTV: HGTV provides design inspiration, renovation tips, and videos showcasing various kitchen cabinet styles and ideas.
National Kitchen & Bath Association (NKBA): The NKBA is a leading professional organization for kitchen and bath designers. They offer resources, certifications, and industry insights.
Frequently Asked Questions
What are the advantages of custom kitchen cabinets?
Custom kitchen cabinets offer several advantages. They are built to fit your specific kitchen layout, ensuring optimal use of space. Additionally, you have full control over the design, materials, and finishes, allowing you to create a unique and personalized look. Custom cabinets are often made with high-quality craftsmanship and durable materials, resulting in a long-lasting and functional kitchen storage solution.
How long does it take to manufacture custom kitchen cabinets?
The manufacturing time for custom kitchen cabinets can vary depending on various factors. It typically takes around 4-8 weeks from the initial design consultation to the final installation. This time frame includes the design phase, material selection, fabrication, finishing, and any necessary adjustments. The exact duration will depend on the complexity of the project, availability of materials, and the schedule of the cabinetmaker.
What is the cost of custom kitchen cabinets in Punta Rassa, Florida?
The cost of custom kitchen cabinets in Punta Rassa, Florida can vary depending on various factors such as the size of the kitchen, the materials chosen, the complexity of the design, and the level of customization. On average, custom kitchen cabinets in the area can range from $10,000 to $30,000 or more. It's recommended to consult with a professional cabinetmaker to get an accurate estimate based on your specific requirements and desired features.