Custom Vanity Designers In Silver Palm Place FL
Elevate your bathroom's appeal and enhance your property's worth through exquisite custom vanities. Our team of skilled Custom Vanity Designers in Silver Palm Place is here to guide you in selecting the ideal vanity that resonates with your home's aesthetics.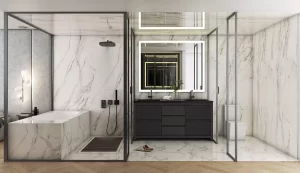 Extensive Range of Material Alternatives at Custom Vanity Designers
Elevate your bathroom aesthetics with the expertise of Silver Palm Place FL custom vanity designers. They specialize in curating personalized vanities using an assortment of materials, each with its distinct charm and, occasionally, a slightly higher cost:
Wood

– Our artisans excel in working with the finest wood species, ranging from mahogany to maple, cherry to oak, pine to teak. This ensures a wooden vanity that seamlessly fits your space, leaving no room for gaps.

Stone

– Dive into the realm of stones with our custom vanity designers in Silver Palm Place. They provide insights into the virtues and considerations of different stones. While natural stone exudes beauty and durability, it may demand additional maintenance. Choose between the timeless allure of marble and the practicality of granite or quartz, aligning with your preferences.

Metal

– Recognized for its durability, easy maintenance, and a range of finishes like chrome, brushed nickel, and oil rubbed bronze, metal emerges as a favored choice for tailored bathroom vanities.
Exploring the Benefits of Opting for a Custom Vanity
The custom-made vanities advised by Silver Palm Place's proficient Custom Vanity Designers stand out due to their exceptional craftsmanship and meticulous attention to detail:
Avoidance of substandard materials common in mass production

Emphasis on creating pieces that endure over time

Prevention of issues like warping and untimely degradation
Always Here When You Need Us
Vanities often slip from our minds until bathroom redesigns or new home buying ventures emerge. If you're currently in this phase, D'Cassa is ready to assist you.
Our Silver Palm Place-based custom vanity designers collaborate with homeowners, interior designers, and contractors who share the objective of enhancing bathrooms and boosting property value. Reach us at 786-634-5544.