Custom Vanity Designers In Tavernier FL
Embrace uniqueness in your bathroom design with tailor-made vanities that reflect your style. Collaborate with our Tavernier Custom Vanity Designers to unearth a world of options and identify the perfect addition to your home.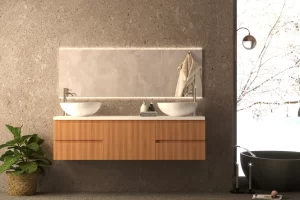 Wide Spectrum of Material Choices at Custom Vanity Designers
Experienced custom vanity designers in Tavernier FL can show you bathroom vanities that are made from a wide variety of materials. Some are more common than others, and some are well worth it but a little bit more expensive than others:
Wood –

We use the finest wood species and have the expertise to know which type of wood to use and where. From mahogany to maple, cherry to oak, and pine to teak, there are many options to choose from. Our custom millwork ensures that your wooden vanity will perfectly fit your space without any gaps.

Stone –

Our

custom vanity designers in Tavernier FL

can inform you of all the pros and cons of stones. Natural stone is beautiful and durable, but it may require more maintenance than other materials. Some people prefer marble because of its natural beauty but others prefer granite or quartz because they are easier to keep clean.

Metal –

Metal is another popular material used for custom bathroom vanities because it is durable, easy to clean, and comes in many different finishes such as chrome, brushed nickel, and oil-rubbed bronze.
WHY YOU SHOULD CONSIDER A CUSTOM VANITY
Most retail-sold vanities fall short when compared to the meticulous artistry and careful consideration offered by Tavernier's recommended Custom Vanity Designers:
Typically crafted from lower-grade materials

Not designed with a focus on extended durability

Prone to warping or eventual weakening
Standing By for You
The topic of vanities usually arises when bathroom renovations or new home purchases are on the horizon. If this resonates with your current situation, D'Cassa is here to offer its expertise.
In Tavernier, our team of custom vanity designers partners with homeowners, interior designers, and contractors, all dedicated to enhancing bathrooms and increasing property value. Dial 786-634-5544.