Custom Vanity Designers In The Acreage FL
Elevate both your bathroom's aesthetics and your property's value with bespoke custom vanities. Let our skilled Custom Vanity Designers in The Acreage be your guide as you uncover a plethora of options to find the perfect match.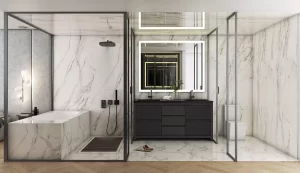 MANY DIFFERENT MATERIALS OPTIONS AT Custom Vanity Designers
For personalized bathroom sophistication, enlist The Acreage FL custom vanity designers who are adept at crafting tailored vanities from an assortment of materials. Each material possesses its own allure and, on occasion, a slightly higher price:
Wood

– Drawing from their expertise, our artisans work with premier wood species, including mahogany, maple, cherry, oak, pine, and teak. This results in a wooden vanity that fits your space seamlessly, without any discrepancies.

Stone

– Embark on a journey through the world of stones with our custom vanity designers. They provide insights into the benefits and considerations of various stones. While natural stone boasts beauty and durability, it may require more maintenance. Decide between the timeless beauty of marble and the practicality of granite or quartz, based on your inclinations.

Metal

– Renowned for durability, low maintenance, and a variety of finishes such as chrome, brushed nickel, and oil rubbed bronze, metal stands as a preferred choice for tailored bathroom vanities.
Design Your Dream Space: The Power of Custom-Made Vanities
Retail-sold vanities can't match the superior artistry and thorough consideration found in the custom-made selections recommended by The Acreage's professional Custom Vanity Designers:
Frequently constructed using subpar components

Limited emphasis on extended lifespan and sturdiness

Susceptibility to warping or potential deterioration
At Your Service, When You Need Us
The thought of vanities usually arises during bathroom renovation projects or the process of purchasing a new home. If this description fits your situation, D'Cassa is here to lend a helping hand.
For those in The Acreage, our team of custom vanity designers works closely with homeowners, interior designers, and contractors, all aiming to improve bathrooms and raise property value. Call us at 786-634-5544.