Custom Vanity Designers In The Roads FL
Custom vanities are a great way to make a statement in your bathroom and increase the value of your property. With so many different styles available, our expert The Roads custom vanity designers will help you narrow down your choices so that you can find the perfect one for your home.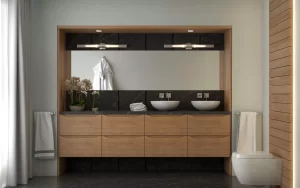 Wide Spectrum of Material Choices at Custom Vanity Designers
Indulge in the expertise of The Roads FL custom vanity designers, artisans of personalized bathroom luxury. They create stunning vanities using an assortment of materials, each with its distinct charm and, occasionally, a slightly higher cost:
Wood

– Our artisans excel in working with premium wood species, ranging from mahogany to maple, cherry to oak, pine to teak. The result is a wooden vanity that seamlessly fits your space, devoid of any irregularities.

Stone

– Step into the realm of stones with our custom vanity designers. They offer insights into the attributes and considerations of various stones. While natural stone boasts beauty and durability, it may require additional upkeep. Choose between the timeless allure of marble and the practicality of granite or quartz, aligning with your preferences.

Metal

– Celebrated for its durability, easy maintenance, and an array of finishes like chrome, brushed nickel, and oil rubbed bronze, metal emerges as a favored choice for tailored bathroom vanities.
Design Your Dream Space: The Power of Custom-Made Vanities
The problem with most vanities sold at retail stores is that they are not made with the same care and attention to detail as the custom-made vanities that The Roads custom vanity designers recommend:
Manufacturers often rely on cheap materials

They are not designed for longevity or durability

They may warp or even start falling apart
Available 24/7 – Here When You Need Us
The thought of vanities usually arises during bathroom renovation projects or the process of purchasing a new home. If this description fits your situation, D'Cassa is here to lend a helping hand.
For those in The Roads, our team of custom vanity designers works closely with homeowners, interior designers, and contractors, all aiming to improve bathrooms and raise property value. Call us at 786-634-5544.