Custom Vanity Designers In Vaca Key FL
Embrace uniqueness in your bathroom design with tailor-made vanities that reflect your style. Collaborate with our Vaca Key Custom Vanity Designers to unearth a world of options and identify the perfect addition to your home.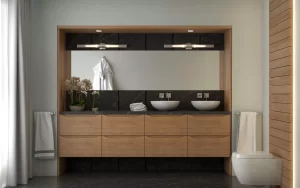 A Plethora of Material Selections at Custom Vanity Designers
Trusted custom vanity designers in Vaca Key FL specialize in crafting exquisite bathroom vanities from a diverse range of materials. Some are more prevalent while others are luxurious yet slightly more expensive:
Wood

– We excel in selecting and working with the finest wood species, including mahogany, maple, cherry, oak, pine, and teak. Our meticulous custom millwork guarantees a seamless fit for your wooden vanity, tailored perfectly to your space.

Stone

– Our Vaca Key FL custom vanity designers provide insights into the attributes of various stones. Although natural stone boasts beauty and durability, it might demand additional maintenance compared to other choices. While some adore the elegance of marble, others favor the ease of cleaning offered by granite or quartz.

Metal

– The durability, easy maintenance, and array of finishes such as chrome, brushed nickel, and oil rubbed bronze make metal a favored choice for personalized bathroom vanities.
Why Custom Vanities Deserve Your Serious Consideration
When contrasted with the custom-made alternatives endorsed by Vaca Key's skilled Custom Vanity Designers, most retail vanities lack the same commitment to craftsmanship and precision:
Often assembled using inexpensive, lower-quality materials

Insufficient attention to long-term robustness and resilience

Tendency to warp or experience degradation sooner
At Your Service, When You Need Us
The topic of vanities usually arises when bathroom renovations or new home purchases are on the horizon. If this resonates with your current situation, D'Cassa is here to offer its expertise.
In Vaca Key, our team of custom vanity designers partners with homeowners, interior designers, and contractors, all dedicated to enhancing bathrooms and increasing property value. Dial 786-634-5544.