Custom Vanity Designers In West Gate FL
Redefine your bathroom's allure and enhance your property's worth with distinct custom vanities. The West Gate Custom Vanity Designers are here to assist you in discovering a diverse array of styles, helping you make the right choice.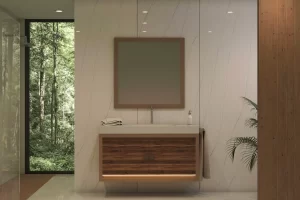 Numerous Choices in Materials at Custom Vanity Designers
Experienced custom vanity designers in West Gate FL can show you bathroom vanities that are made from a wide variety of materials. Some are more common than others, and some are well worth it but a little bit more expensive than others:
Wood –

We use the finest wood species and have the expertise to know which type of wood to use and where. From mahogany to maple, cherry to oak, and pine to teak, there are many options to choose from. Our custom millwork ensures that your wooden vanity will perfectly fit your space without any gaps.

Stone –

Our

custom vanity designers in West Gate FL

can inform you of all the pros and cons of stones. Natural stone is beautiful and durable, but it may require more maintenance than other materials. Some people prefer marble because of its natural beauty but others prefer granite or quartz because they are easier to keep clean.

Metal –

Metal is another popular material used for custom bathroom vanities because it is durable, easy to clean, and comes in many different finishes such as chrome, brushed nickel, and oil-rubbed bronze.
Custom Vanities: Tailoring Your Bathroom to Perfection
Compared to the custom-made vanities favored by West Gate's expert Custom Vanity Designers, most retail options lack the same dedication to skillful work and precision:
Often pieced together using subpar materials

Limited focus on ensuring prolonged usefulness and strength

Prone to warping and eventual degradation
HERE WHEN YOU NEED US
Most people do not think about their vanities until they start redecorating their bathrooms or when they buy a new home. If this sounds like something that could apply to your situation right now, D'Cassa can help. 
Our West Gate custom vanity designers work with homeowners, interior designers, and contractors who seek to beautify the bathroom and increase the value of their property. Give us a call at 786-634-5544 today.