Custom Vanity Designers In Westchester FL
Seeking to transform your bathroom into a masterpiece? Look no further. Our Westchester Custom Vanity Designers specialize in curating unique vanity designs that elevate your space and property value.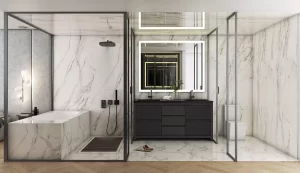 Countless Material Options Available at Custom Vanity Designers
In Westchester, FL, rely on the expertise of custom vanity designers to create bathroom opulence tailored to your preferences. They fashion exquisite vanities using a diverse array of materials, each possessing its distinct charm and, sometimes, a slightly higher cost:
Wood

– Our artisans specialize in working with premium wood species, ranging from mahogany to maple, cherry to oak, pine to teak. The result is a wooden vanity that seamlessly fits your space, eliminating any gaps.

Stone

– Journey into the realm of stones with Westchester FL custom vanity designers. They illuminate the attributes and considerations of various stones. While natural stone offers beauty and resilience, it may entail additional upkeep. Choose between the timeless elegance of marble and the practicality of granite or quartz, based on your preferences.

Metal

– Renowned for its durability, easy maintenance, and a range of finishes like chrome, brushed nickel, and oil rubbed bronze, metal takes its place as a favored choice for tailored bathroom vanities.
Redefining Style and Function: The Custom Vanity Advantage
The detailed workmanship and careful crafting of the custom-made vanities recommended by Westchester's established Custom Vanity Designers far exceed the norm found in retail-sold options:
Frequently composed of cheaper materials for cost-cutting

Insufficient attention given to extended durability and resilience

Susceptibility to warping or even premature falling apart
Dependable Assistance, Always Here When You Need Us
The significance of vanities often becomes apparent during bathroom renovations or moving into a new residence. If this rings true for you right now, D'Cassa is available to provide assistance.
Our team of Westchester custom vanity designers caters to the needs of homeowners, interior designers, and contractors, all striving to enhance bathrooms and raise property value. Dial 786-634-5544 today.