European Kitchen Cabinets In Bay Harbor Islands FL
Looking for a way to enhance both the functionality and luxury of your kitchen? Look no further than Bay Harbor Islands European Kitchen Cabinets. These cabinets boast a sleek and sophisticated design that complements modern and contemporary kitchens seamlessly.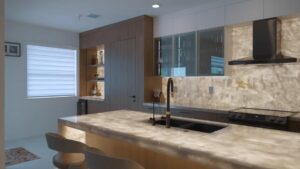 WHY INVESTING IN EUROPEAN KITCHEN CABINETS IS WORTH IT
Transform your Bay Harbor Islands FL kitchen using European kitchen cabinets, ensuring longevity and elegance:
Enduring Sophistication: With their understated design, European kitchen cabinets effortlessly enhance kitchens of varying sizes.
Uncompromised Quality: Crafted from solid wood, our cabinets excel by delivering exceptional sturdiness, effectively preventing warping and cracking.
The blend of styles: Accommodating diverse architectural aesthetics, our European cabinets harmonize functionality and refined style seamlessly.
Experience Design Prowess with Our In-House Team
Discover the art of showcasing your personality through kitchen cabinets. D'Cassa introduces you to the world of Bay Harbor Islands European kitchen cabinets, tailored to your unique taste and daily routine. Rely on our designers to:
Guide You in Selecting Durable Wood Types with Minimal Upkeep.

Create Clever Cabinet Layouts for Generous Storage.

Strike the Perfect Fusion of Practicality and Elegance.

Harness Natural Light to Set the Mood in Your Kitchen Design.
Arrange Your Free Virtual Consultation in a Few Simple Steps
Delve into your favored style of Bay Harbor Islands European kitchen cabinets, allowing us to earmark a slot for in-depth exploration of the choices at hand. Take advantage of a cost-free virtual consultation with the D'Cassa team by dialing 786-634-5544 today.